Missing Links
This a quick article for New Year's Day, about a myth I encounter frequently. This myth is the "missing link" in human evolution. You'll see it in documentaries, popular culture, and in conversation.
The main problem is that human evolution from chimpanzee-like ancestors to modern humans is very well-documented. I challenge anyone to go to
this page
, look at those skulls (reposted below), and tell me where a missing link should go. I certainly can't see a good place for one, and that picture doesn't even contain every fossil in our collections.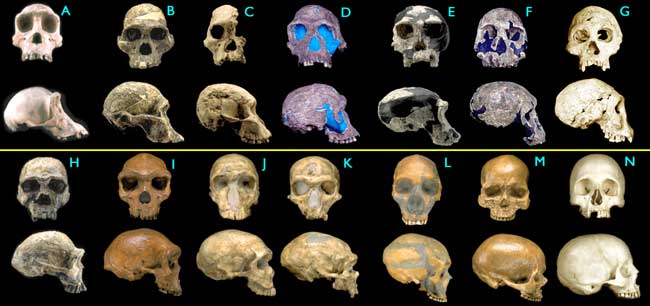 That's not to say that we know everything about human evolution, there are a great number of things that we don't know. But we do know what we looked like along the way, from
Australopithecus africanus
to
Homo sapiens sapiens
.
If you have some spare time, browse the rest of that article. It's a fantastic summary of the evidence for evolution, and what better way is there to start off a new year than learning? I can't think of many.
Have a good new year.